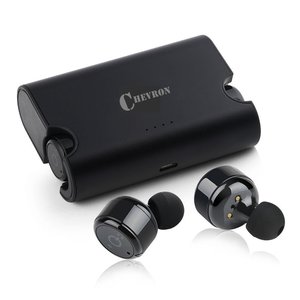 ULTRA COMPACT DESIGN.: Stylish truly wireless Bluetooth earbud, only 6 grams lighter than an one-dollar coins, Perfect companion while driving, Office, Meetings & Outdoor activities like Running. #1 rated 2017 Bluetooth device.There is no inbuilt FM Radio, memory card support & pen drive connectivity. UNIVERSAL COMPATIBILITY: Compatible with iOS, Android & Windows. Chevron Truly Wireless headphone is a Stereo Headset.
HIGH-FIDELITY SOUND & IP-X4 SWEAT PROOF: Connect your phone or tablet via Bluetooth 4.2 and instantly begin to enjoy crisp, skip-free stereo sound music from up to 33-feet away. CVC 6.0 noise cancellation technology ensures that perfect sound is delivered. Patented technology exclusive to Chevron. Includes CSR chipset & Apt-X tech made by Qualcomm-USA. IP-X4 sweatproof nano coating for extra protection.
BUILT HIGH QUALITY MICROPHONE- For hand free calling. Stable, ergonomic, behind-the-ear design offers the SNUGGEST FIT EVER ensuring they stay in place when you're up, active, working and running round the track. Press and hold MFB for 3 seconds until the indicator flashes red and then press and hold MFB button of another earphone for 4 seconds until red light and blue light flash alternately, and at the same time the blue light of the first earphone will flash (one time in 5 seconds)
INCREDIBLE PLAYTIME: Chevron Truly Wireless provide an impressive 7-hour playtime/120 hours (single earphone) 4-hour playtime/120 hours (dual earphone) standby on a single charge. UPGRADED FEATURE - Headphone Battery Indicator in iPhone only. MULTI FUNCTIONAL BUTTON (MFB) - Multiple Functions with one button. Power on , Power off , Answering a call, Ending a call, Rejecting a call , now one can do with one button only.
Steps to Get the Deal
Click Buy Button
You will be Redirected to Amazon from Drillthedeal
Add the

Chevron Wireless Bluetooth V4.2 Earphones With Deep Bass Stereo Sound, Charging Box And Handsfree Mic

To Cart
Make payment of Rs.2999.00