Windows 11 released download ,free update , Requirements and compatibility
Posted by:
ravi
on - 02 Jul 2021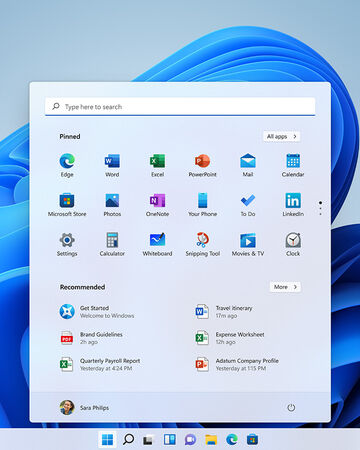 Introducing new Windows 11 with more new upgrade features. Windows 11 is a new major release of the Windows NT operating system developed by Microsoft. Announced on June 24, 2021, with an expected release in late 2021.
Windows 11 is currently available to members of the Windows Insider ring and requires a modern PC to run smoothly.Windows Insider is an open software testing program by Microsoft that allows users who own a valid license of Windows 10. so those who have original license of windows 10 can upgrade windows 11 for free
What is new in Windows 11 ?
Microsoft has built a new Start menu and Taskbar experience, now centered by default. In windows 11 now you can access all the apps you need and multi-task with ease with tools like Snap layouts, Desktops, and a new more-intuitive redocking experience.
With the new Start button and taskbar to each sound, font and icon, everything was done in a new manner and new style. In windows 11 Start button and search button placed at the center and made it easier to quickly find what you need.These are new features designed to help you organize your windows and optimize your screen real estate so you can see what you need just the way you want in a layout that's visually clean. You can also create separate Desktops for each part of your life and customize them to your liking – imagine having a Desktop for work, gaming or school. Windows 11 comes with great features for gaming, Discover your next favorite game with Xbox Game Pass, giving you access to over 100 high-quality games.
In Windows 11 Microsoft introduce Chat from Microsoft Teams integrated in the taskbar. where you can instantly connect through text, chat, voice or video with all of your friends or personal contacts, anywhere, no matter the platform or device they're on, across worldwide
Windows 11 VS Windows 10
Windows 11 has all the power and security of Windows 10 with a redesigned and refreshed look. It also comes with new tools, sounds, and apps. Every detail has been considered. All of it comes together to bring you a refreshing experience on your PC.Windows 11 is also secure by design, with new built-in security technologies that will add protection from the chip to the cloud, while enabling productivity and new experiences.

How to Upgrade from windows to windows 11 ?
You must have windows 10 to windows 11 upgrade for free Navigate to setting on windows 10
Now Click on Update and security>> Windows Insider Program. Click Get
Now Pick an account to get started, Connect with your Microsoft account you registered with and continue.
Now check for new updates. Bow it will start checking for new updates.
Follow the instructions to choose the experience and channel you want to get Insider Preview builds through
Review the Privacy Statement and terms, and click confirm. Click Restart Now
After restart Go to Settings > Update & Security > Windows Update. Click for new updates it will start
checking for new updates. and You will see the latest Insider Preview to upgrade to windows 11
Windows 11 Requirements and Specifications
Processor 1 gigahertz (GHz) or faster with 2 or more cores on a compatible 64-bit processor or System on a Chip (SoC)
Memory- Minimum 4 GB RAM or more
Storage- 64 GB or larger storage device
System firmware- UEFI, Secure Boot capable
TPM- Trusted Platform Module (TPM) version 2.0 Minimum system requirements
Graphics card- DirectX 12 compatible graphics / WDDM 2.x
Display- HD Resolution (720p)
Internet connection= Microsoft account and internet connectivity required for setup for Windows 11 Home



Windows 11 release date and price
In live event Program Microsoft Announced the released date on June 24, 2021, with an expected release in late 2021. After release you can now download windows ISO file to install windows 11 on your computer ,laptop. Microsoft says it is going to share an early access of Windows 11 through its Windows Insider Program on windows 10 where you can upgrade windows 11 for free