Free Udemy Paid Courses List Enroll Now and Start Course
Posted by:
ravi
on - 30 Jul 2021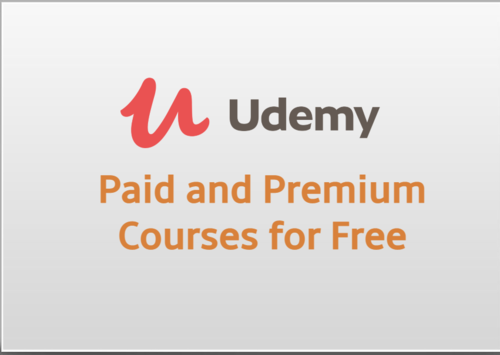 Free Udemy Paid & Premium Courses List Start Learning with Udemy
Checkout free Udemy paid and premium Courses list here from a to z. Enroll now and Start Learning now and learn what you want
Development Course for Free on Udemy :
Java Tutorial for Complete Beginners - Join Now
Introduction to Python Programming - Join Now
C++ Tutorials for Complete Beginners - Join Now

Introduction to Artificial Intelligence in Software Testing - Join Now

Python for Data Science - Join Now

Code Your First Game: Arcade Classic in JavaScript on Canvas - Join Now

Web Development by Doing HTML/CSS from Scratch - Join Now

Learn Angular 4 from Scratch - Join Now
Business Courses for free on Udemy :
How to speak to anyone & be fearless - in less than 55 min - Join Now

Make Money from Home: How to Build an Online Business - Join Now

10 FREE Blogging Tools That Will Make You a Better Blogger - Join Now
Marketing Courses for Free on Udemy :
What Is SEO? Learn SEO Basics & Optimize Your Website - Join Now

Google Ad Words for Small Business: Secrets of an Agency Pro - Join Now

YouTube 101: Keys to a Successful Channel - Join Now



How do i get free udemy Courses ?
To get free courses on udemy you have to follow these steps
First Visit Udemy website to get free course
Then You have to select the category which you want to get the free course on landing page of Udemy website
then all the category related course are shown on website
Now in the filters options you have select the price option under which you have to select the free option
Now all the free course available to you which you can enroll for free


How do i get paid udemy Courses for free ?
To get paid courses for free on udemy you have to get free coupon from coupon website which provided by udemy to get enroll for free. Coupons are usable for limited times here how to apply coupon to paid courses for free on udemy
First Visit Udemy website to get paid course for free
then You have to select the category which you want to get the paid course for free or search on landing page of Udemy website
then all the category related course are shown on website
Now select the course you want to enroll
In next click buy Now button and enter the coupon code which you have
Coupon will be applied and you get paid course for free on udemy
Views :24331, Replies :4
❤