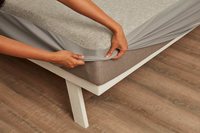 Water Proof Terry Cotton Mattress Protector Single
mattress protector provides protection to the mattress from accidents. Mattress protector is waterproof and protects mattress against any liquid spill over by a kids, pet or during regular usage. Doesn't contain PVC, vinyl or pthalates
Terry cotton layer on the top provides smooth feel and keep the sleeping surface cool. It absorbs all the natural moisture and doesn't let it seep thorugh mattress
It has Polyester lycra casing with elastic strap which makes it easy to hold the protector with mattress
TPU Film is used for to make it waterproof and at the same time breathable. It allows air to pass through but not the water. Helps you maintain hygiene by protecting against any allergens like bacteria, pollens, dust mites and any fluid
Easy to care - Wash it gently in washing machine
Wakefit's mattress protector is the most convenient option if you are looking to have a hygienic mattress!
These waterproof mattresses use TPU for 100% resistance to water while also being breathable, without making any plasticky rustling sounds.
The Cotton Lycra casing with elastic strap makes it easy to tuck in the protector on all sides for a snug and wrinkle-free surface. The bed sheet can be put on top of the protector to complete preparing the mattress for sleep.
And when you feel like washing it, all you have you do is put the protector in a washing machine. Simple as that!
Steps to Get the Deal
Click Buy Button
You will be Redirected to Amazon from Drillthedeal
Add the

Water Proof Terry Cotton Mattress Protector Single

To Cart
Make payment of Rs.635.00