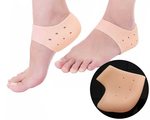 offer Buy Silicone Gel Heel Pad Socks for Pain Relief for Men and Women
Purastep Silicone Gel Heel Socks
The all in one foot care solution for cracked, dry, hard and painful heels.
Can be worn at any time of the day and can be used with all types of footwear.
Absorbs pounding shocks, reduces friction and pressure on the heels.
Can be washed and reused.
Can be used by both men and women.
Steps to Get the Deal
Click Buy Button
You will be Redirected to Amazon from Drillthedeal
Add the

offer Buy Silicone Gel Heel Pad Socks for Pain Relief for Men and Women

To Cart
Make payment of Rs.169.00