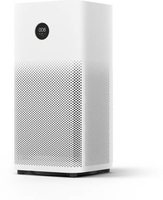 Mi Portable Room Air Purifier 
Buy Mi AC-M4-AA Portable Room Air Purifier  at best price from flipkart.Keep the air surrounding you clean and free from impurities and allergen
Equipped with an OLED Display which automatically adjusts its brightness and a High-precision Laser Sensor that can detect the smallest of impurities, this Mi air purifier is just what you might be looking for.
Mi Air Purifier 2
The smart way to breathe
Real-time AQI monitoring
Mi Home app, smart remote controls
400 sq. ft. coverage, 360° triple-layer filter
The 360° cylindrical filter takes in air more efficiently from every direction compared to conventional air purifiers. Its
triple-layer design removes particles larger than 0.3μm with a high-density EPA filter from Japanese manufacturer Toray,
New OLED Display
This Mi air purifier features an OLED Display which allows you to keep a track of how clean the air is in your room by displaying the PM2.5 level, temperature and humidity level.
Ni Air Purifier 2 quickly removes PM2.5 particles, dust from unclean air conditioners, germs, indoor plant pollen and pet hair. It even filters unpleasant odours that may waft through from time to time.
Steps to Get the Deal
Click Buy Button
You will be Redirected to Flipkart from Drillthedeal
Add the

Offer : Mi AC-M4-AA Portable Room Air Purifier at 30% off

To Cart
Make payment of Rs.8949.00