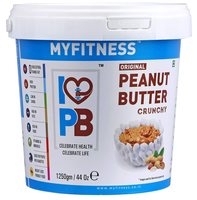 MyFitness Healthy Peanut Butter Crunchy High in Protien
MYFITNESS Peanut Butter crunchy is more than a breakfast companion. It is a high protein, nutritious and delicious treat whether used in recipes, as a spread on sandwiches or even when simply licked off a spoon. It is healthy for everyone in the family because it has zero cholesterol and zero trans-fats.
High Protein Energy Booster Heart Friendly Low in Carbs 0 Cholestrol 0 Trans Fat Rich in Fiber Antioxidants
MYFITNESS ORIGINAL PEANUT BUTTER CRUNCHY
This Pot of gold is made with pride using only high quality ingredients to offer you a health with each delicious spoon. For Fitness lovers, made from high quality fresh peanuts, this MYFITNESS original peanut butter crunchy is more than a breakfast companion.
Best peanut butter for weight loss
Peanut butter has the enviable combination of fiber (2.6 g per serving) and protein (7-8 g per serving) that keeps you feeling full for longer, so you end up eating less overall. And since there's nothing more indulgent than licking peanut butter off a spoon, once you do .Crunchy peanut butter contains more fiber and folate, both of which are essential to your health. While creamy peanut butter choices may offer a tad more protein content
Reduce your heart disease risk.
peanut butter contains more unsaturated fat than saturated fat making it a fat friendly food which lowers the risk of cardiovascular and coronary heart disease.30 grams of peanuts or peanut butter every week can help decrease the risk of total mortality and death from cardiovascular disease.
Peanut butter helps you recover after a workout. It's high in protein, which you need to boost recovery if you're going hard at the gym.
Peanut butter may reduce your risk of diabetes. Because of the low glycemic score of peanuts, consuming peanuts regularly can help keep blood sugar stable and lower your diabetes risk.
Peanut butter is packed with vitamins and minerals. Copper, folate, B vitamins, and manganese are all right there.
Steps to Get the Deal
Click Buy Button
You will be Redirected to Amazon from Drillthedeal
Add the

MyFitness Healthy Peanut Butter Crunchy 1kg High in Protien

To Cart
Make payment of Rs.525.00