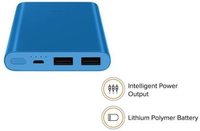 Mi 10000 mAh Power Bank Fast Charging, 18W
Charge your gadgets on-the-go by carrying this stylish and efficient power bank (10000 mAh) from Mi. It lets you charge up to two devices. What's more, it comes with a safe and durable lithium polymer battery.
Quick Charging
This power bank supports two-way fast charging and offers fast charging support for up to 18 W, thereby ensuring that your gadgets are charged quickly and efficiently.
Steps to Get the Deal
Click Buy Button
You will be Redirected to Flipkart from Drillthedeal
Add the

Mi 10000 mAh Power Bank Fast Charging, 18W 33% off

To Cart
Make payment of Rs.799.00