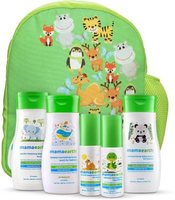 MamaEarth Complete Baby Care Kit 
MamaEarth Complete Baby Care Kit with Baby Lotion, Shampoo, Body Wash, Mosquito Repellent & Sunscreen in an amazing water proof baby bag
Don't let having a baby put a stop to all your travel plans. Take care of your precious little one, even when you travel, with this MamaEarth Complete Baby Care Kit. This kit consists of 5 baby care essentials and is packed neatly in a waterproof bag.
Features:
Complete baby care kit for baby's delicate skin
Products come packed in a waterproof baby bag
Products enriched with goodness of Shea butter, Calendula Extract, Jojoba Oil etc
Gentle yet efficacious, 5.6 Ph level best suited for baby skin for wash and shampoo
Certified toxin free
Dermatologically tested, clinically tested in Europe, hypoallergenic and safe for sensitive skin
Free from synthetic fragrance, 100 percent natural, based on a proprietary blend of essential and carrier oils
What's Inside?
This kit comes with a baby lotion, a shampoo, a mosquito repellent, a body wash and a sunscreen.
Child-friendly
All of these MamaEarth products are free from toxins, parabens, sulfates, mineral oils and synthetic fragrances, making them perfect for everyday use on your little one.
Steps to Get the Deal
Click Buy Button
You will be Redirected to Flipkart from Drillthedeal
Add the

MamaEarth Complete Baby Care Kit with Baby Lotion, Shampoo and more

To Cart
Make payment of Rs.776.00