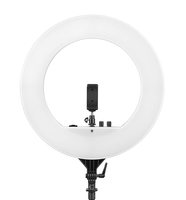 LED Ring Light for Mobile video shooting
Lightweight on Shoulder and Pocket, both: Not just lightweight and portable but really affordable. The light is mountable to an optional grip head or stand ; The pack includes: Ring light body, AC power cable, Smartphone mount, Hotshoe mount, Carry bag and Instruction user manual
Switch to the right light: Digitek bi-color led ring light comes with 240 pieces LED bulbs; Special LED SMD design; Come with hot shoe adapter for helping the camera or the phone holder be installed onto the ring light firmly.
Button controls: DRL-18H comes with Intensity control, Color temperature control & power button making it easier to operate.
Multi angle: With a 360 degree rotated smart phone holder, you can angle vertically or horizontally without taking the phone out of the holder. For photographers, a hot shoe adapter included fits onto a standard accessory shoe on the stand.
Ring Light for best Picture
 you can bend it at will, choose the angle you are satisfied with. Perfect extra light for makeup, live, flat, self-portrait photos, shooting, video, online teaching, dark landscape videos and more.
LED Ring Light for YouTube Videos, TikTok Videos
LED Ring Fill Light Dimmable for YouTube Videos, TikTok Videos Selfie Makeup with Android Phone, 3 Colors Mode & 10 Level Brightness.The adjustable ball head allows you to find the perfect angle to light your subject, making your photograph or live streaming easily. You will be able to make videos at night or take great selfie picture in dark areas with this ring light
Best High Quality LED's Ring
Bi-Colour LED Ring Light DRL-18H is distinctive shaped source with signature quality of light. With No Shadow apertures, is essentially a boon for Photo-Video shoots at No Electrical Power supply spots.Works on both on AC & DC power. This Bi-color light source is oasis at places like Market, Beach, Park or any outdoor for amazing results. Also ideal for Make-up artists & Fashion photographers. Perfect light to shoot Interviews, Food/ Product shots, V-logs, Documentaries & much more. Can mount it to a grip head or light stand as per need. It has Stepless Adjustment for color Temperature to maintain products tone or create fine subject details. Runs on 2 optional NP-F550 / 750 / 960 lithium-ion batteries. It is made of 240 pieces of High Quality LED's with stable color temperature & High IP.
Led Ring Light with Silver Light Stand
Led Ring Light with Silver Light Stand Lighting Kit Dimmable  with Soft Filter Hot Shoe Adapter for video shooting TikTok youtube musically for photography.No ultraviolet and infrared light radiation, low heat output, safety, and environmental protection. It is perfect to use in personal makeup for a wedding or artistic photo photography, selfie, makeup tutorials, live webcast, YouTube, tiktok and Facebook video shooting.
Led Ring light for all Devices
Fits for the majority of smart phone models in the market, such as iPhone X 8 7 plus 7 6 plus, Samsung S8 S7 S6, Huawei, etc. It is perfect to use when you make up for a wedding or artistic photo photography, take selfie, have portrait photography, live webcast, YouTube/FaceBook video shooting
Steps to Get the Deal
Click Buy Button
You will be Redirected to Amazon from Drillthedeal
Add the

DIGITEK LED Ring Light for Mobile video shooting shop Online

To Cart
Make payment of Rs.4369.00