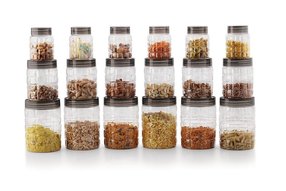 Cello Checkers Plastic PET Canister
Air Tight PET Containers are made from US FDA APPROVED GRADE Polyethylene terephthalate (PET), free from any kind of odour.
100% Food Grade & BPA Free Canisters: This air tight is free from BPA (Bisphenol A), which causes health hazards when it comes in contact with food & liquids. Ensuring a healthier lifestyle using Bisphenol A free Products.
Air Tight Seal: The Checkers Containers have an air tight seal that completely locks the Crisp & flavour of the contents you put in as does not lose moisture. The taste and nutritive value of the contents remains intact for a long time making the containers very appropriate for storing dry food, pulses, and spices.
Easy to open lid: The Containers have swift & easy to operate lid.
Stackable: You can stack the containers one over the other. Space saving canisters, Helps you to organize your kitchen.
Sheer, See through Lid: Easy to identify the contents without having to open each.
Odourless: The Novel material used makes the container odourless.
Steps to Get the Deal
Click Buy Button
You will be Redirected to Amazon from Drillthedeal
Add the

Buy Cello Checkers Plastic PET Canister Set, 18 Pieces

To Cart
Make payment of Rs.599.00