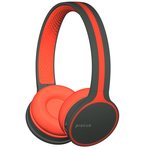 Buy Procus Urban Bluetooth Headphones (On-Ear Wireless) Hi Bass, With Microphone (Mobile/PC/TV)Neon Orange at Amazon
Stylish, Sporty & Comfortable || Premium rubber coated headphones giving the headphones a very distinct look. *Colors of actual product may vary marginally from actual product.
Bluetooth: Quick Bluetooth connectivity where you can connect 2 devices at the same time for wireless listening with the clearest sound upto 10 meters in open space.
Sound Acoustics & Battery life || No crazy bass or treble that harms ears and does not allow long term usage. Procus Urban is fine tuned audio for the sound clarity, being user friendly to the ears and providing 8 hours of play time.
Steps to Get the Deal
Click Buy Button
You will be Redirected to Amazon from Drillthedeal
Add the

Bluetooth Headphones (On-Ear Wireless) Hi Bass, With Microphone

To Cart
Make payment of Rs.1999.00