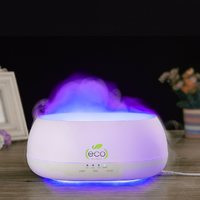 Air-purifier-Tesco Cloud Mist Air Humidifier, Aroma Diffuser With Multi Color Lamp
RELAXATION AND SLEEP: Keep one at the office to help you relax. Set one on the bedside table to help your mind and body relax so you can sleep better at night.
MOOD ELEVATING: Inspire high spirits to set a positive atmosphere for business meetings and social gatherings, to help you get moving on a slow morning, or even to create a romantic atmosphere.
HELPS YOU BREATHE EASIER: Essential oils are great for reducing inflammation and congestion in clogged airways to help you breathe more easily, such as peppermint, rosemary, lemon, eucalyptus.
Steps to Get the Deal
Click Buy Button
You will be Redirected to Amazon from Drillthedeal
Add the

Air-purifier-Tesco Cloud Mist Air Humidifier, Aroma Diffuser With Multi Color Lamp

To Cart
Make payment of Rs.3325.00